One of the best shooters of all time
I don't know why, but I have a thing for shooters with a sorceress on a broomstick, Cotton being one of my favorite shooters series. The best shoot-them-up having a witch as the main character remains without a doubt Magical Chase though. On a wider scope, I simply consider it one of the best shooters of all times.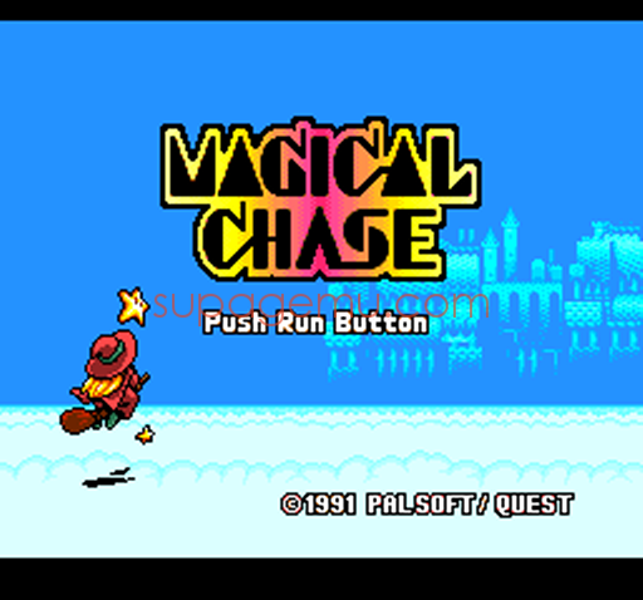 Quest's only PC Engine game
Magical Chase was developed by Quest, a company that is best known for its famous Tactical-RPG series Ogre Battle. Two of the most brilliant members of the Quest team were Hiroshi « Nigoro » Minagawa (art director of games such as Magical Chase, Ogre Battle, Tactics Ogre, Final Fantasy Tactics, and Vagrant Story) and Hitoshi Sakimoto (who used the nickname YmoH.S). The latter composed the soundtrack of the game with Masaharu "Rezon" Iwata. The work they did for Magical Chase was simply outstanding. The soundtrack does not sound at all like most of their later works (Ogre Battle, Final Fantasy Tactics, Treasure Hunter G…). It has a very unique joyful style that perfectly fits the action. ALL the tracks sound wonderful. Even the game over jingle is memorable and makes you happy to lose! My favorite tracks are the title screen and the first stage themes. Those are real classics, but all of the other tracks also sound great. I can't think of a non-CD game on PC Engine that comes with a better soundtrack.
Childish and whimsical, but not as much as Hana Tãka Daka!?
Even more remarkable are the colorful graphics. The backgrounds of the second and fifth stages are nothing short of gorgeous. The sprites are all well very drawn. Some are kind of bizarre (chicken heads running on legs, dolls flying on paper planes, blue ghosts with a big tongue wearing hairbands…) but never as crazy as the enemies from Hana Tãka Daka!?, another PC Engine shooter. Perhaps the most impressive feature of the game is the multi-plane fast paced scrolling along with the way the many sprites on the screen move. This conveys a feeling of intensity and fast paced action which is very important for shooters.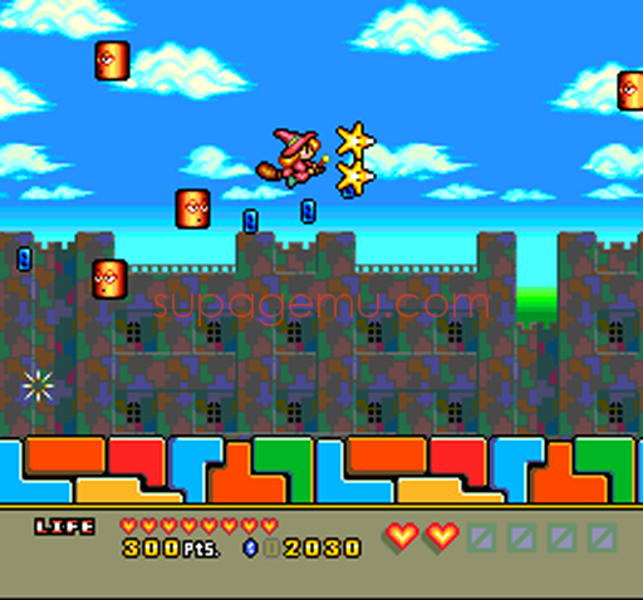 Shops as in Fantasy Zone
In terms of gameplay, Magical Chase also comes with some interesting features. First, you can visit shops within the stages twice in every level except the last one, the last shop of the game being automatically visited just before the start of the 6th stage. The shops sell weapons, life points, and life bottles. It also enables to change the speed of the broomstick for 300 coins. These stores remind me of Fantasy Zone. Secondly, two little stars offer their support to Ripple, the main character. The stars move and shoot in the direction opposite to the one Ripple moves to. You can prevent the stars from moving by pressing button one. The most effective way of using them is probably to keep them in front of Ripple so that they act as a shield. You can also fix the direction in which they shoot by pressing button one while shooting.
Fixing one's own mistakes
The plot is pretty simple: Ripple is a student of magic who made a terrible mistake: she took a look into the forbidden book of demons, even though she promised her teacher not to. As a result, six demons were released! So she has no choice but to catch all six demons to put them back in the book.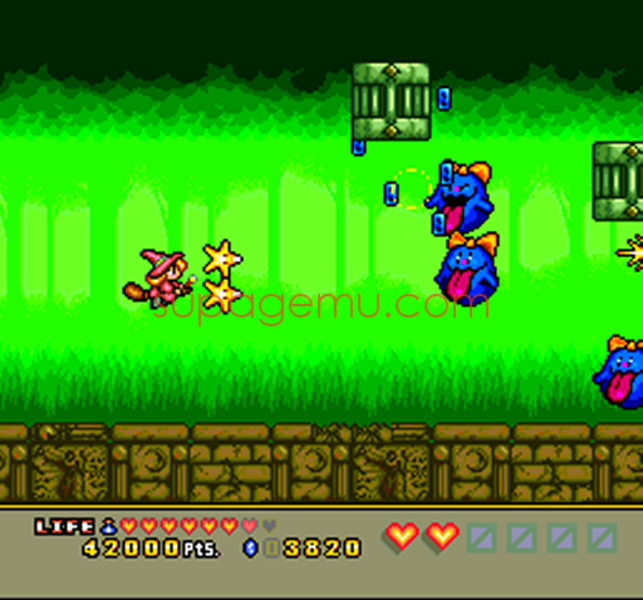 Too easy?
Thanks to the life meter, Magical is really enjoyable even for non-expert players. It is not as frustrating as typical shooters in which one little mistake means restarting from the last checkpoint. But don't be fooled, Magical Chase is still a challenging game, thanks its last two levels (stage 5 and 6), especially in hard mode. The last stage includes 5 bosses, which are very difficult to beat with the difficulty set to hard. You will have to come up with a strategy and perfectly master the bosses' patterns to beat the game. But Magical Chase is so good that it is one of the few game I completed in every mode (easy, normal, and hard). As a side note, only the first three stages can be played in the easiest mode.
Magical Chase and the competition
Let's compare Magical Chase to some similar PC Engine shooters.
Magical Chase versus Coryoon (1991): Coryoon was the released the same month as Magical Chase (November 1991). The latter is a lot more challenging and has got a much better soundtrack in my opinion. Plus, the action of Coryoon is somewhat hard to read because of the fruits dropped by the enemies. Winner: Magical Chase
Magical Chase vs Hana Tãka Daka!? (1991): Magical Chase is more challenging and faster paced, but has got a little less replay value than Hana Tãka Daka!?, because the latter has got a hidden plate in each stage. The atmosphere of Hana Tãka Daka!? is more whimsical. Winner: I love Hana Tãka Daka!?, which is a crazy, funny, and slow paced shooter, but if I had to choose one, it would be Magical Chase.
Magical Chase vs Cotton (1993): Magical Chase is faster paced and merrier than Cotton, which has a dark tone because of its scenario. Cotton is a lot more challenging though. Winner: Magical Chase
Now let's see what the other systems had to offer at the time.
Magical Chase vs the Neo Geo: in 1991, there were only two (vertical) shooters for the Neo Geo: Alpha Mission II and Ghost Pilots. While Alpha Mission is a decent shooter, Ghost Pilots is a boring game that cannot compete with 1941 Counter Attack (SuperGrafx). Winner: Magical Chase by KO
Magical Chase vs the Super Famicom: The Super Famicom is not exactly the system for shooters. At the time, there were three (horizontal) shooters on the machine: Gradius III, Super R-Type, and Super Earth Defense Force. The first two include considerable slow down, while the third one is only decent. They were all put to shame by Magical Chase. Winner: Magical Chase by KO
Magical Chase vs the MegaDrive: Now it gets tricky. In terms of shooters, the Genesis/MegaDrive was the most serious competitor for the PC Engine. At the time, masterpieces such as Musha Aleste, Thunder Force III, and Elemental Master were already released. My preference still goes to Magical Chase though. I find it more impressive, colorful, and enjoyable (I am not a big fan of the Thunder Force III levels, which have to be learned by heart). Winner: Magical Chase
A gem known for being top notch first, and then for being quite expensive
Magical Chase is a top notch shooter. As such, it belonged to a group of Japanese games that were already highly sought after and thus expensive in the late 90s, along with Dracula X Chi no Rondo or Musha Aleste. Its price was still reasonable in the early 2000s, but went crazy in the 2010s. Two editions of the game were released: the standard one and the PC Engine fan one (PC Engine Fan was a Japanese magazine). They fetch the same price on the second hand market. The US version published by TTI in 1993 is infamous for being insanely expensive. Some sprites and backgrounds were changed in this US version. There were also a Windows 95/98 version that was released in 1998, and a quite good Game Boy Color version in 2000.